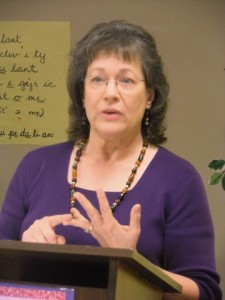 Sarah works to improve literacy, specializes in reading remediation, and trains adults in the Spell to Write and Read language arts program. She inspires people to endure difficulties and learn to change. She runs a private education business and moonlights in Seattle theaters as a professional wardrobe assistant and dresser.
Sarah is passionate about the English language. She loves to assist adults to improve their English, rebuild their lives, and achieve their goals. She tutors K-12 privately in language arts and writing. Her dream is to help restore America's literacy level and introduce people to the richness and versatility of our language.
Sarah speaks about literacy, teaching reading and writing, inspirational living, learning to speak, homeschooling, women's concerns, prayer, theater, and history. She is available to speak to professional groups, business, women's groups, churches and nonprofits, and at conferences, retreats, and workshops. She dedicates herself to the work of Christ.
IF YOU WISH SARAH TO SPEAK AT YOUR EVENT OR TEACH A SEMINAR OR CLASS,
PLEASE CONTACT HER AT SarahGM917@gmail.com
Past Speaking Events [does not include SWR seminars]
My Work with the Civil War Pathways History Project – a brief overview of my volunteer work with this historic research project into Washington Territory's involvement/attitudes before, during, and after the Civil War
Cascade Chapter of Daughters of the American Revolution, Red Lion Bellevue Inn, Bellevue, WA,
Tuesday, October 8, 2013, 10:30 AM
http://www.rootsweb.ancestry.com/~waccdar/meetings.htm

NCWA Annual Writers' Renewal, Friday, May  17 & Saturday, May 18, 2013, 2:30 PM
Overlake Christian Church, 9900 Willows Road NE, Redmond, WA 98052, http://www.occ.org/
"Write Start" Guided Writing Exercise
Northwest Christian Writers' Association, Monday, March 4, 2013, 7:00 PM, http://www.nwchristianwriters.org/
Northshore Baptist Church, 10301 NE 145th Street, Kirkland, WA  98034, info@nsb.org
"Wisely Choosing Words: Literacy for Fiction Writers", NW Christian Fiction Writers, Everett, WA, September 17, 2012
Abundant Life Community Church, 3003 York Road, Everett, WA  98204, http://totallyforgiven.com/
"Literacy in a Christian Homeschool: What It Is and How to Get It"
REACH Bellevue, Monday, October 8, 2012
Crossroads Bible Church, 15815 Southeast 37th Street  Bellevue, WA 98006, http://www.cbcbellevue.com/
Past Vendor Exhibit and Speeches:
Christian Family Home Educators Conference, Spokane Valley, WA, May 18 & 19, 2012
Washington Homeschool Organization's Annual Homeschool Conference, Puyallup, WA, June 15-16, 2012
A Happy Home Podcast Guest Interviews, http://ahappyhomemedia.com/podcast-3/
So Our Children May Read, Interview with Keri Mae Lamar, Kingston, WA
http://ahappyhomemedia.com/?s=So+Our+Children+May+Read
Cursive First? And Is Teaching Latin a Fad?
http://ahappyhomemedia.com/?s=Latin
Future Speaking Events
Meeting Devotional
Northwest Christian Writers' Association, Date TBD, 7:00 PM, http://www.nwchristianwriters.org/