Book Reviews for Bibliophiles Column, June 19, 2012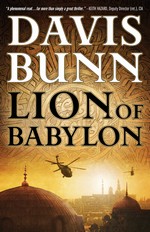 Lion of Babylon, by Davis Bunn, Bethany House Publishers, 2011
NOTE: This review is featured on Davis Bunn's blog on July 2, 2012!
Check it out at Marc Royce: A Cross Between Indiana Jones, James Bond, and Errol Flynn
Marc Royce, former State Department operative, is a cross between Indiana Jones, James Bond, and a skosh of Errol Flynn. He reluctantly finds himself back in the intelligence game after a friend's disappearance.
When Alex Baird suddenly drops out of circulation in Baghdad under suspicious circumstances, Royce heads for Iraq, clear about the dangers required to find his friend.  Royce has to unravel the mess. Thus begins a difficult mission, and the taut discovery of kidnappings and deep political intrigue create surprise twists both for Royce and for Bunn's readers.
Lion of Babylon is part thriller, mystery, and romance, all from a considered Christian perspective. The book's fast pace, however, does not belie its message of forgiveness and redemption written against the backdrop of modern warfare, terrorism, and savagery.
The pace enhances the vibrant imagery throughout, as on page 183:
"The restaurant included a shaded veranda on the mall's top floor. They looked down on rooftops and minarets and the green fronds of palm trees. A faint scent of eucalyptus wafted upward through the traffic fumes. A wall fountain played the music of water."
Written with tight prose, the reader is drawn deep into the story. Bunn keeps you moving along with Royce as his opponents up the ante of danger.  From page 305:
"The room went silent. There was a faint electric hum, whether from the overhead lights or the speakers, Sameh could not tell. Or perhaps it was merely the sound of his own adrenaline-stoked nerves."
A lifelong, avid reader, I delight in the discovery of "new" authors….or rather, authors new to me. How I missed best-selling author Davis Bunn, I do not know, but I know of him now!  After reading Lion of Babylon, I see why Mr. Bunn's work is often on the New York Times Bestseller list.
Even while he keeps the reader guessing, Bunn brings the story to a gratifying conclusion. Moving descriptions of the story's multi-faceted relationships are drawn subtly but well. Lion of Babylon left me wanting more. Happily, I am privileged to be one of the bloggers about to review the sequel, Rare Earth. Stay tuned.
I received a complimentary copy of this book for review from Bethany House Publishers. I was not required to write a positive review. The opinions I have expressed are my own. I am disclosing this in accordance with the Federal Trade Commission's 16 CFR, Part 255.
One response to "Review: Lion of Babylon"