Book Reviews for Bibliophiles, June 20, 2012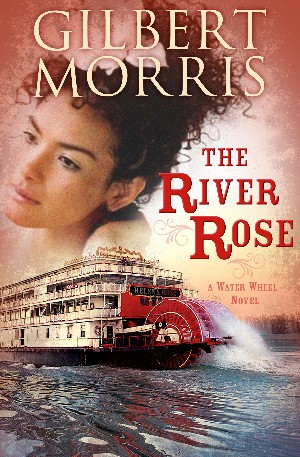 The River Rose, by Gilbert Morris, B & H Publishers
With unambiguous, handsome prose, Gilbert Morris's stunning new book evokes the time of paddle wheel steamers powering their way through American history:
"The Gayoso House Hotel in Memphis, Tennessee, gleamed like Mount Olympus on the bluff high above the Mississippi River. Its six fifty-foot-high Doric columns topped by the grand, white marble pediment had become a sure landmark to the lesser beings on the river. A pallid December sun rose behind the hotel, its weak light still making the grand edifice seem to glow." [page 1]
The story begins with Jeanne Bettencourt, single mother of a frail little girl named Marvel. Jeanne works as a maid in a local hotel. At Christmas, she surprises Marvel with an outing to a Christmas celebration:
"… the sun drifted down in the west, and a twinkling silver twilight set in. Lamps were lit in the shop windows, cheery people hurried in and out of the stores, buggies and people on horseback thronged the streets. Marvel was positively goggle-eyed, and Jeanne had to hold her hand tightly…for she kept wanting to dart here and there to see wonders in the store displays." [page 48]
Soon we meet Clint Hardin, a handsome, rakish man with an extraordinary singing voice. Clint and Jeanne discover they have inherited one half of the same riverboat, Helena Rose.
Marvel contracts yellow fever during an epidemic. She asks Clint to sing "Ave Maria". As he does, Marvel rests, Clint kneeling before his Maker:
"It was the strongest and best he had ever sung. He felt his spirits rise, and remembered that he had had this same feeling before as he sang well. It uplifted him, made him reverent, made him aware of a higher plane…But now he prayed as he sang.. He forgot everything except music. Now he knew that the song wasn't coming from him. It never had. It was coming from God Himself." (page 280)
This is the turning point for Clint as he confronts what keeps him from relationships with the Lord and Jeanne, but something completely unanticipated occurs, threatening everything.
Morris makes you a part of the story.  Rife with believable but imperfect characters, it includes well researched settings and an ending that does not disappoint.
NOTE: See link below for link to Chapter 1, The River Rose. If you go to a separate post you can also find a link to the You-Tube interview with Gilbert Morris

I received a complimentary copy of this book for review from B & H Publishing Group. I was not required to write a positive review. The opinions I have expressed are my own. I am disclosing this in accordance with the Federal Trade Commission's 16 CFR, Part 255.
The River Rose by Gilbert Morris – Chapter 1
One response to "Review: The River Rose"