SOUNDING OFF ABOUT MANNERS: INTRODUCTION
NaBloWriMo Post 8
PET PEEVES, CONTINUED
So far during this 2013 NaBloWriMo, the post generating the most comments so far was my Pet Peeves post a few days ago. I had so much fun with that one I think I will publish two more lists after today. The next blog post will be Pet Peeves II, followed by Pet Peeves III.
A DETERIORATION IN MANNERS
These will be centered on an over-arching Pet Peeve: the deterioration of basic manners in American culture. The level of which, in my humble opinion, has become downright embarrassing. To some, the lack of manners has been elevated almost to an art form, and this, my blog reading friends, is not a good thing!
But I digress. A bit.
CULTIVATING GOOD MANNERS
I was raised in a Pacific Northwest home by Southern parents. My mother hailed from the mountains of North Carolina and my father from southern Mississippi. They came to the NW in 1940 at the beginning of WWII, where my father began a long career with the Boeing Company. Cultivating good manners, as you can imagine, was an important idea to our family.
NEVER OUT OF STYLE
In our home, my mother frequently stated:
"Remember, Sarah, good manners never go out of style."
NO "YEAH, BUTS" ALLOWED
No equivocation, no "yeah, buts", no extenuating circumstances allowed. And believe me, there were occasions where my brother, sister, and I tried – at different times, of course – to get away with being bad examples. And sometimes, we were. But over the long haul, we had to comply sooner or later.
BEHAVIORAL GOLD STANDARD
I am not trying to imply we were perfect, or that our parents were. But having good manners was the gold standard in our home, and we were raised to respect it and to aspire to it.
I found later in life how much that simple statement of my mother's formed my psyche, trained me for adult life, and contributed to the worldview I hold today.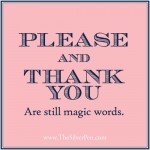 STAY TUNED
Please stay tuned for Pet Peeves II tomorrow, and Pet Peeves III the day after, from which you may glean what I do and do not consider good manners.