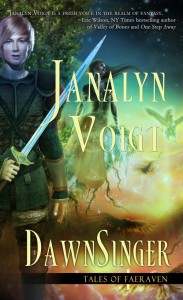 Book Reviews for Bibliophiles
Dawnsinger, by Janalyn Voigt, August 20, 2012
DawnSinger centers on Shae and Kai, protagonists sent on a perilous journey to serve their kingdom and fulfill destiny. Fraught with political danger and intrigue, riveting battles, and a quest not unlike that for the Holy Grail, DawnSinger describes a world that doesn't exist…except in our minds. Shae and Kai battle evil but also confront their personal foibles and demons.
As an English teacher and student of medieval history, discovering Janalyn Voigt's writing was a delight. With a bold, clear style she utilizes the exquisite vocabulary of classic literature and Middle English that enhances rather than detracts from the story. DawnSinger is rich with description, pulling the reader into the action in a way rarely found in modern writing.
TALES OF FAERAVEN, PART ONE:
DawnSinger is the first installment of Ms. Voigt's trilogy, Tales of Faeraven. It is food for the mind, and rich, satisfying fare at that. Voigt drew me into her world, enabling identification with the characters and fascination with the setting and action. This is masterful writing that enriches the soul and heart, lyric and understated.
Like Sir Walter Scott's Ivanhoe, the heroic themes throughout DawnSinger exemplify the literary term romance with strong characters keen on their mystical quest.
From Chapter Two, "Whellein Hold"
"…Shae lifted the latch. The door gave with a creak, and she entered the Allerstaed, the place of prayer.
A musty scent, the smell of dust and disuse, emanated from wood and stone. Faint light followed her from the open doorway and a few indifferent sunbeams penetrated the grime coating three high windows above the altar. Her steps whispered across the graystone floors, and she sank to her knees onto the stone step below the altar."
As she develops our understanding of Kai and Shae, the author weaves in modern "romantic" elements. Are they brother and sister, or something more? How can they find out? Who tells them truth and who deceives them?
From Chapter Twenty Two, "Road to Pilaer"
"A pall hung over this place, as if the mists shrouded a corpse, not a town. Sorrow lay so heavy over all that it would not have surprised her if the walls ran with tears and the stones themselves wept."
AKIN TO TOLKIEN AND LEWIS
Those who liken Voigt's writing to that of Tolkien and C.S. Lewis are correct. Generally, I do not read fantasy literature, because until now I have not encountered writing of the Tolkien/Lewis caliber. DawnSinger fills that void. I recommend this book without reservation. Voigt may make a fantasy lit aficionado out of me yet!
NOTE: A complimentary copy of this book was provided for review by author Janalyn Voigt. A positive review was not required and the opinions expressed are my own. I am disclosing this in accordance with the Federal Trade Commissions' 16 CFR, Part 255.

Keep checking back with this blog for the second book in Tales of Faeraven, Wayfarer.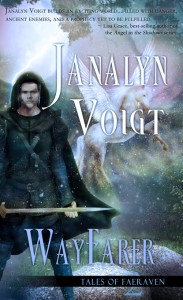 5 responses to "The Fantasy World of "DawnSinger""