Keep watching this blog for more book reviews from Thomas Nelson, WaterbrookMultnomah, and Bethany House.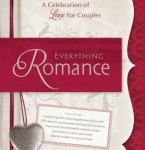 Just in time for Valentine's Day next month: Everything Romance, a Celebration of Love for Couples, by David Borden and Thomas J. Winters, WaterbrookMultnomah Publishers, copyright 2011.
This one should be fun to read, fun to review, and valuable for anyone looking to create, maintain, or nurture their relationship with a spouse or the person they are courting.  Practical and imaginative tips, ideas for romance on any budget, and more.