Book Reviews for Bibliophiles Column, July 18, 2011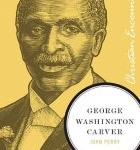 In the next few weeks you will see more book reviews coming forth.  The next one will be George Washington Carver, by John Perry,  Thomas Nelson, publishers.
I am particularly excited to read this new biography of one of our nation's most fascinating men, because my mother once had the privilege of hearing him speak at her college, then known as Women's College of the University of North Carolina at Greensboro.  She never got over the excitement and honor she felt hearing this man speak in the late 1930s.
This book is one of Thomas Nelson's Christian Encounters series.  See below for a brief description of this series:
Christian Encounters, a series of biographies from Thomas Nelson Publishers, highlights important lives from all ages and areas of the Church. Some are familiar faces. Others are unexpected guests. But all, through their relationships, struggles, prayers, and desires, uniquely illuminate our shared experience.