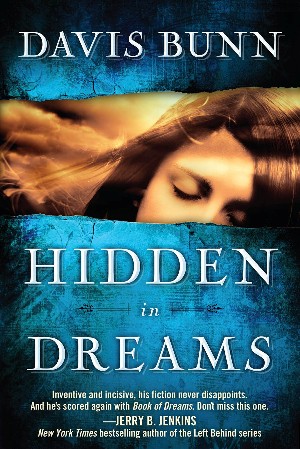 Book Reviews for Bibliophiles, September 11, 2012
HIGH STAKES AND NIGHTMARES: HIDDEN IN DREAMS BY DAVIS BUNN
by Sarah Gunning Moser
It is not often that I find a story "haunting" me, but both of Mr. Bunn's books in this series do. With disturbing current economic forecasts as a backdrop, Hidden in Dreams is both astonishing and chilling, fiction thought it may be.
I admit I am a "sold out" fan of Bunn's work. His ability to weave current events into a powerful story is notable, his pacing and characterization compelling. This book is no exception.
PICKS UP AFTER THE BOOK OF DREAMS
Hidden in Dreams picks up where The Book of Dreams left off. Bunn reintroduces us to some familiar characters, including protagonist Dr. Elena Burroughs, an internationally known expert on dream interpretation. As with many other people, she has frightening dreams about a coming worldwide economic collapse. As the story progresses, Elena finds these dreams are a plague of recurring nightmares.
EVIDENCE MOUNTS WHERE TERROR BEGINS
Elena has her own personal terrors: a dear friend recently died, she is not sure which key person in her life is trustworthy, and her love life is in limbo. These events intertwine with the growing body of people having the exact same dream as Elena's, and the evidence mounts that there is a specific and frightening message inherent in these dreams. Elena at first thinks she has it decoded, but through a series of circumstances the reader must discover, she begins doubting even her own thoughts. Elena has been down similar roads before and has survived them, but this is different. Even in the opening chapter, Bunn hooks us in with this stunning image of the protagonist:
"The previous year had basically been a disaster. Elena considered herself an optimist by nature, tempered by a hefty dose of realism. But she had no trouble with the truth, even when it bent and twisted her most recent memories into a torrent as steady as the rainfall beyond the classroom window." [page 2]
A DEFTLY WOVEN STORY
Bunn leads us a merry chase through an international setting, rife with scientists, university professors, pharmaceutical researchers, Elena's friends…and treachery. The author's knack for keeping his readers guessing does not let up in this book and is one of the aspects of his writing I enjoy the most. At times he deftly creates intimacy with his characters, alternately describing the person and allowing us to understand them.
CLARITY

When Elena has dinner with the president of the college where she teaches, we experience a moment of clarity for her:
"What [Elena] heard was a current that ran far deeper than the spoken words. Here were people she could trust, she decided. Either she opened up, or she didn't. They would not pry. But as she listened to the talk and the quiet laughter, there in the ruddy glow of flickering candles, she saw the faces of friends she had yet to truly know." [page 92]
THE STAKES INCREASE
Tension mounts and the stakes increase. Elena and her compatriots must decide what to do about the growing phenomenon of frightening, debilitating dreams being reported from around the world. But on whom can she depend? One wrong step will sink her and possibly others. Bunn hauls us through this riveting story to uncover what Elena does. Hidden in Dreams is an exciting read, unusual in its structure and premise. Don't miss this one.
I received a complimentary copy of this book for review from Howard Books. I was not required to write a positive review. The opinions I have expressed are my own. I am disclosing this in accordance with the Federal Trade Commission's 16 CFR, Part 255.
One response to "Review: "Hidden in Dreams""