Book Reviews for Bibliophiles: 

Unlimited
An Intense and Sublime Story
by Davis Bunn, NY Times Best-Selling Author
Simon Orwell is an MIT electrical engineering student who makes a serious mistake. Known as a brilliant loner, he worked for years with professor Armando Vasquez, performing world-changing energy research. Yet Simon betrays his friend, who leaves MIT, choosing to return to his home in Mexico.
A Breakthrough Leading to Peace?
Two years later, Vasquez emails Simon about a breakthrough in their former research. Simon drives to Mexico to find him, anxious to make amends. Simon needs to apologize, knowing he will not find peace until he does.
Davis Bunn sets the stage with his trademark vibrant prose:
"The Mustang's engine bellowed a manic note, as though giving voice to all his bitter tumult. Simon blasted out of town and flew into the desert. The industrial zone and border station were masked by the dusky sunset. And beyond that lay two thousand miles of road and the cold, hard reality of nothing to lose." (page 15)
Feral Smiles and Danger
Crossing into Mexico, Simon notices a man with a feral smile who seems to watch him as he arrives. Good thing, as the mysterious predator shows up everywhere. After a terrifying car crash in the desert, Simon learns Vasquez is dead, and discovers a web of treachery and political deceit that stuns him. Unlimited becomes a thrill ride in print that keeps you guessing, with Simon's awareness of burgeoning evil drawing you further into the story.
Simon's journey leads him to an orphanage where he meets inventor Harold Finch, the one character in the book who is real. Harold left a lucrative career with NASA to help children living in the shadows.  He and Simon form a friendship, along with the team that runs the place.
Unlimited Power
Thus begins the race to discover the source of Vasquez's unlimited power and the dark elements wanting to capture it. Unlimited inspires readers to confront their personal challenges, and hints that there is a greater purpose in life than mere survival.
Treat yourself to the book and the movie, due to release next week. They are both intense and sublime, leading the way to powerful discoveries of their own.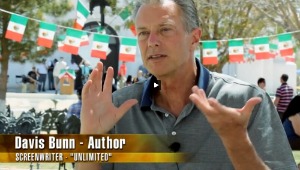 See the Movie "Unlimited" Trailer:
Read the first three chapters for free:
Link to free preview of Chapters 1-3 of Unlimited (http://on.fb.me/1c5IyCS)
I received a complimentary copy of Unlimited from B & H Publishing in exchange for my honest review.
One response to ""Unlimited" – Intense and Sublime"