Goodreads.com is also offering a book giveaway for Christian author, Janalyn Voigt's new book.  Enter to win an autographed copy of DawnSinger, book one of the new epic fantasy series, Tales of Faeraven!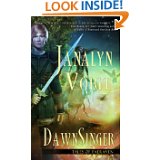 Summary:
A headstrong young princess and the guardian sworn to protect her fly on winged horses to the Gate of Life above the Well of Light in a desperate bid to release the DawnKing, and the salvation he offers, into a divided land. Will they each learn in time that sometimes victory comes only through surrender?
Back Cover Copy:
The High Queen is dying… At the royal summons, Shae mounts a wingabeast and soars through the air to the high hold of Faeraven, where all is not as it seems. Visions warn her of danger, and a dark soul touches hers in the night. When she encounters an attractive but disturbing musician, her wayward heart awakens.
But then there is Kai, a guardian of Faeraven and of Shae. Secrets bind him to her, and her safety lies at the center of every decision he makes.
On a desperate journey fraught with peril and the unknown, they battle warlike garns, waevens, ferocious raptors, and the wraiths of their own regrets. Yet, they must endure the campaign long enough to release the DawnKing—and the salvation he offers—into a divided land. To prevail, each must learn that sometimes victory comes only through surrender.
Giveaway ends in 24 days (August 17, 2012): 1 copy available, 565 people requesting so far. See below and click on the link for information and details.  Good luck!