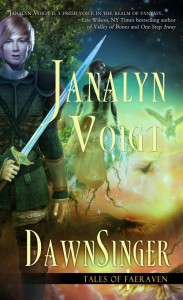 DAWNSINGER GIVEAWAY CONTEST!
Through October 20, 2012, I am conducting a free book giveaway contest to promote Janalyn Voigt's excellent new book, DawnSinger. She is providing a copy of this fabulous new epic medieval fantasy adventure story to one lucky winner.  All you have to do is follow the instructions below by clicking on the 'rafflecopter' link.
Please leave a U.S. physical mailing address in your entries, as books cannot be sent to post office boxes. Winner may choose either hard copy, ebook, or PDF format of DawnSinger!
READ THE PUBLISHER'S SYNOPSIS OF DAWNSINGER:
The High Queen is dying… At the royal summons, Shae mounts a wingabeast and soarsthrough the air to the high hold of Faeraven, where all is not as it seems. Visions warn herof danger, and a dark soul touches hers in the night. When she encounters an attractive butdisturbing musician, her wayward heart awakens. But then there is Kai, a guardian of Faeravenand of Shae. Secrets bind him to her, and her safety lies at the center of every decision hemakes. On a desperate journey fraught with peril and the unknown, they battle warlike garns,waevens, ferocious raptors, and the wraiths of their own regrets. Yet, they must endure thecampaign long enough to release the DawnKing—and the salvation he offers—into a dividedland. To prevail, each must learn that sometimes victory comes only through surrender.
WATCH THESE VIDEO TRAILERS FOR DAWNSINGER:
ENTERING IS EASY!
The more of the options you choose to participate in, the more entry points you earn. The winner will be chosen randomly by computer and will be notified on this blog.
ENTER HERE:
Don't put this off! Enter now to win your copy of DawnSinger. Contest ends Saturday, October 20, 2012.