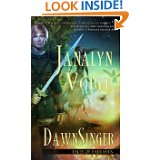 Win a free digital copy of DawnSinger!  This recently published fantasy story, the first book in the trilogy Tales of Faeraven, promises to be an interesting entry into the series by Northwest author, Janalyn Voigt.
You may enter a drawing to receive a copy of DawnSinger by scrolling down and clicking on the link below.  Follow Inkslingers' directions on how to enter.
If you leave a comment on the web site the link takes you to, you will be entered in the drawing, which ends July 28. (Read on. You might be able to learn a lot about Leeds Castle while you enter the drawing!)
NOTE FROM AUTHOR JANALYN VOIGT: "One of the castles I used as a model for Torindan in DawnSinger, book one of my epic fantasy series, Tales of Faeraven is Leeds Castle. You can read more about this castle and comment to enter the drawing on Inkslingers:"
http://shannonvannatter.com/janalyn-voigt-romantic-destination-leeds-castle-part-1-of-1-2/comment-page-1/#comment-9032
Medieval Epic High Fantasy author, Janalyn Voigt shares her romantic destination, plus a chance to win a PDFdownload or mobi file copy of her book, DawnSinger. Comment on this post to get your name in the drawing. Deadline: July 28th, 11:59 pm, central time.
Janalyn Voigt – Romantic Destination – Leeds Castle – Part 1 of 1 | Shannon Taylor Vannatter »
One response to ""DawnSinger" Book Giveaway!"