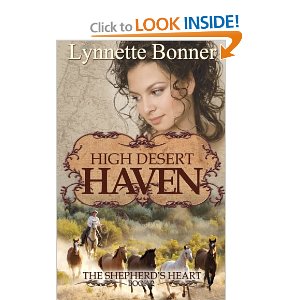 Looking for a good historical romance set in the territorial Northwest? Are you interested in possibly receiving a free copy of such a book? Read on!
Northwest Christian author Lynnette Bonner's second book in The Shepherd's Heart series, High Desert Haven was released last month.  Set in 1887 Oregon Territory, High Desert Haven tells the story of a young widow trying to work her ranch and raise her toddler after her husband dies mysteriously in an accident.
Is Jason Jordan really who he says he is?
Everything in Nicki's life depends on the answer.
Lynnette is graciously giving away one copy of her new book via Goodreads. Entries may be made at their site. See below. You can enter to win a free copy here: http://www.goodreads.com/giveaway/show/29297-high-desert-haven
This book giveaway contest for High Desert Haven runs between July 16 and July 23, so enter right away at www.goodreads.com. Only one copy will be given away free after the contest closes July 23.
For more information about this and other books by Lynnette Bonner, go to www.amazon.com:
http://www.amazon.com/High-Desert-Haven-Shepherds-Heart/dp/1477586482/ref=sr_1_1?s=books&ie=UTF8&qid=1342551630&sr=1-1&keywords=High+Desert+Haven
One response to "Historical Fiction Book Giveaway"